Kool Energy 1kW Portable Standby Kit
KOOL PORTABLE 1000W LOAD SHEDDING AND EMERGENCY KIT
Features
Excellent performance because of double CPU intelligent control technology.
A wide range of applicable loads because of pure sine wave AC output.
The mains supply mode/energy-saving mode/battery mode can be set.
Convenient and practical 5VDC-USB output port and 12VDC output port.
Digital LCD and LEDs for visualization of operation status of the equipment.
Overcharge protection and over discharge protection for a longer battery life.
Safe and reliable with intelligent exhaust fan control.
Overall automatic protection and alarms including AC output overload protection. short circuit protection. etc.
Can be charged with 1 x 320W solar panel or directly from AC.
The Kool Energy 1KW Portable Kit has a charge and discharge protection device integrated and to fully charge the battery, it can take up to 1 hour and 30 minutes for a full recharge.
Electricity for cellphones, lights, TV, Computers, etc. in time of need
No installation required
Solar panel ready - Can be charged from AC or Solar panel.
1 Year Warranty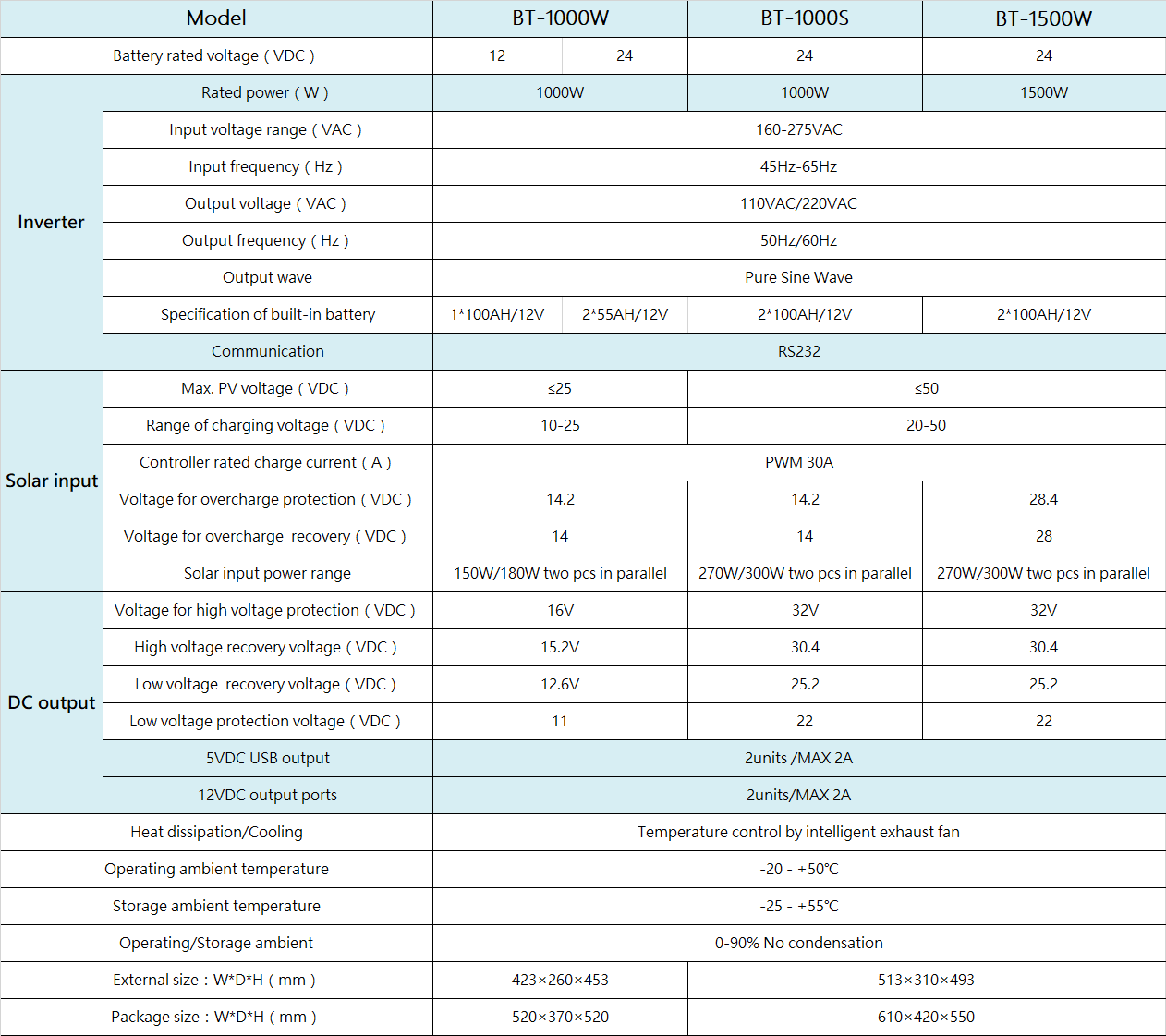 Inverter
Kool Energy 1kW Portable Standby Kit
Rated power(W): 1000W
Input voltage range: (VAC)160-275VAC
Input frequency Hz): 45Hz-65Hz
Output voltage(VAC): 110VAC/220VAC
Output frequency(Hz): 50Hz/60Hz
Output wave: Pure Sine Wave
Specification of built-in battery: 1*100AH/12V
Communication: RS232
Solar input
Kool Energy 1kW Portable Standby Kit
Max. PV voltage(VDC): ≤25
Range of charging voltage(VDC): 10-25
Controller rated charge current(A) PWM: 30A
Voltage for overcharge protection(VDC): 14.2V
Voltage for overcharge  recovery(VDC): 14.0V
Solar input power range: 160W/180W two pcs in parallel
DC output
Kool Energy 1kW Portable Standby Kit
Voltage for high voltage protection(VDC): 16V
High voltage recovery voltage(VDC): 15.2V
High voltage  (VAC) output: 2 units: 220V
Low voltage  recovery voltage(VDC): 12.6V
Low voltage protection voltage(VDC): 11V
5VDC USB output:  2units /MAX 2A
12VDC output ports: 2units/MAX 2A
Heat dissipation/Cooling: Temperature control by intelligent exhaust fan
Operating ambient temperature:  -20 – +50°C
Storage ambient temperature: -25 – +55°C
Operating/Storage ambient: 0-90% No condensation
External size W*D*H(mm):  423×260×453
Package size W*D*H(mm):  520×370×520
You can connect it to solar panels and it also comes with a 

1-year warranty

.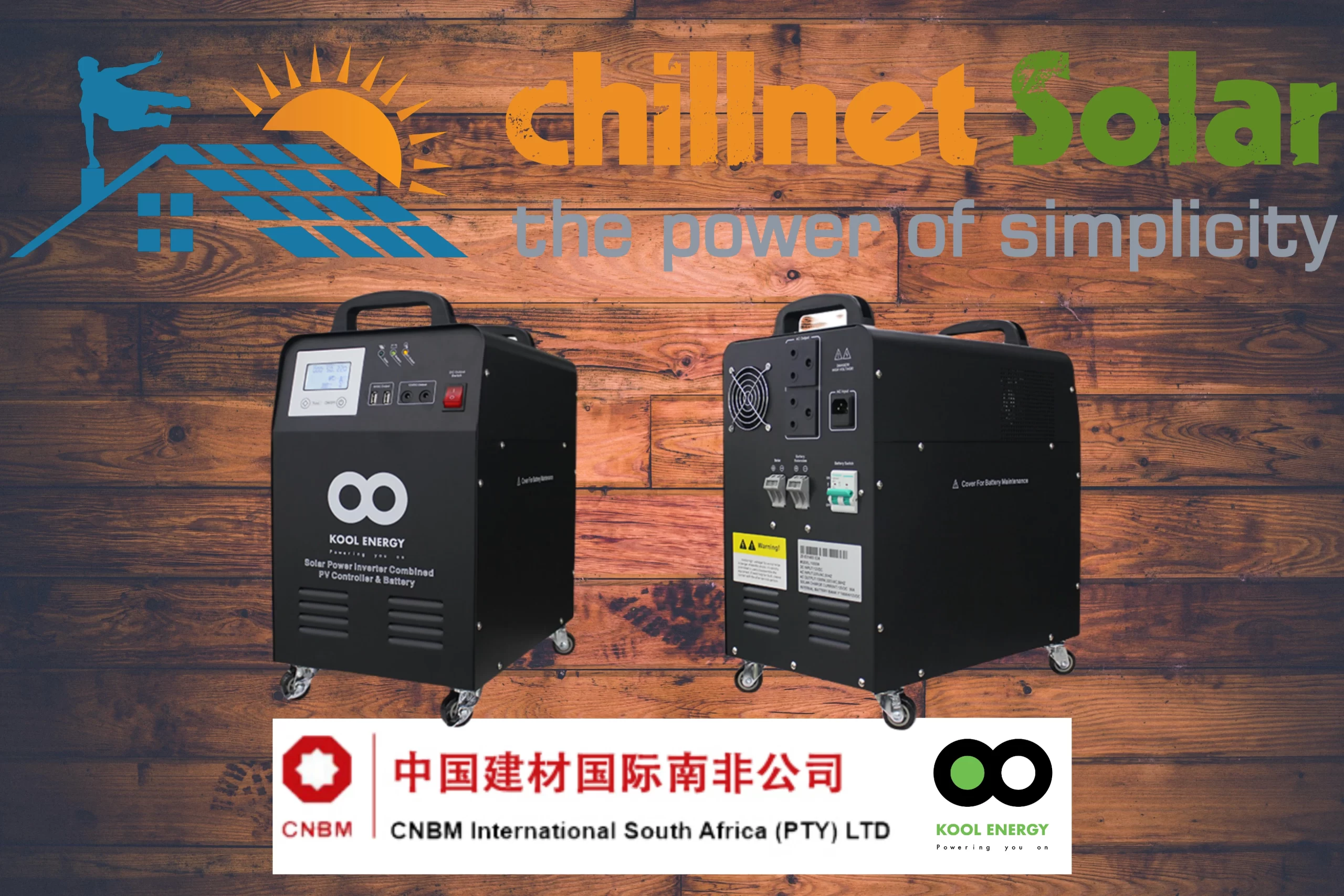 CNBM-SA (China National Building Material International South Africa) is a division of the CNBM Group Co., Ltd. (China National Building Material Group) which was established in 1984 under the direct supervision of the State-owned Assets Supervision and Administration Commission of the State Council of China.
By 2018 we were the world's largest manufacturer of building materials as well as an integrated service provider leading throughout the world, and we has been listed in the Fortune Global 500 for nine consecutive year, ranked NO. 203nd in 2019 . With total assets over 80 billion dollar, CNBM Group takes possession of 25 divisions with more than 250,000 employees all over the world, mainly dispersed in China, Germany, Canada, New Zealand, UAE, South Africa, Ghana, Zimbabwe,Vietnam.