Sirair Inverter Pool Heat Pump 25-140KL
Warranty:
2 Years (terms and conditions apply).
Subject to it being installed by an approved installer.
Subject to electrical compliance.
Important Guidelines:
Sirair Inverter Pool Heat Pump 25-140KL
For optimal efficiency it is recommended to use the heat-pump be used in
conjunction with a pool blanket and serviced every 2 years.
For efficiency and longevity please mount the
pool heat-pump on a 650mm or larger wall bracket.
The pool heat pump must be connected to the separate DB board
at your pool pump allocated to its own breaker.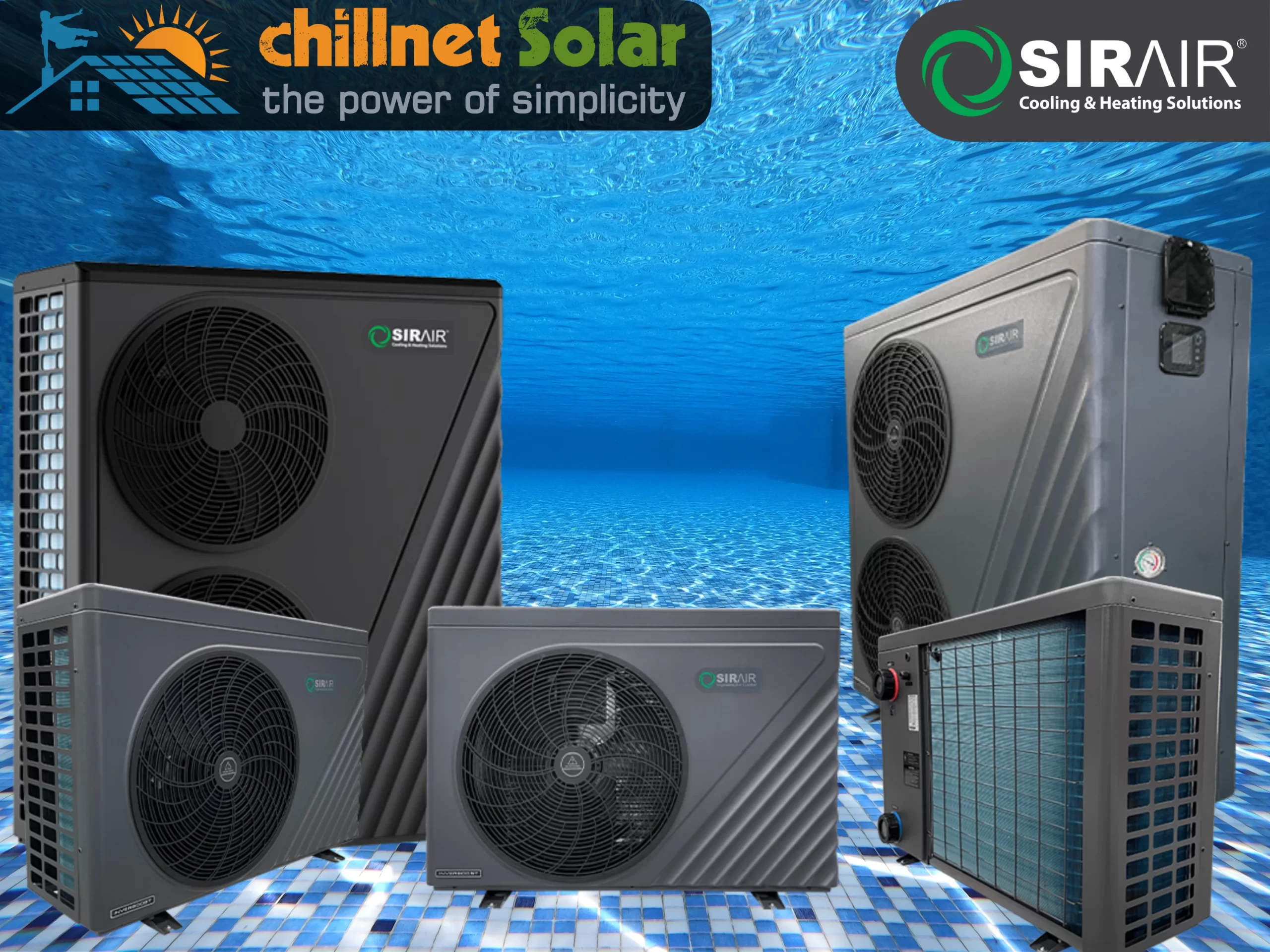 What is a Inverter Pool HEAT PUMP?
An inverter pool heat pump is a cost, and energy efficient way to ensure your pool is at swimming temperature throughout the warmer seasons. The technology in inverter pool heat pumps ensures your swimming pool water temperature is consistently maintained at what you set it to.
The Technology in Inverter Pool Heat Pumps
Through the process of drawing warm air from the atmosphere and then transferring that heat into your outdoor swimming pool, inverter pool heat pumps can provide a consistent water temperature. Because they can draw heat from the atmosphere in all conditions, this makes them more consistent than solar pool heating systems.
For convenience and consistency, the inverter swimming pool heat pump allows you to set a desired water temperature and this will be attained automatically by the pool heat pump. Inverter technology allows set temperatures to be reached and maintained more precisely and efficiently than other heating systems. In some inverter pool heat pumps, full control is available from your device, with a wi-fi control feature.
Control your heat pump anywhere and anytime
Sirair Inverter Pool Heat Pump 25-140KL with ALSAVO Pro WiFi APP is added-value product for pool heat pump. It makes our life more convenient and greatly improved customer experiences. It works flexibly as a remote controller to operate your pool heat pump and check your pool water temperature anywhere. Make sure that both your phone and heatpump is within wi-fi range. The app is free to download.
With our 'Alsavo Pro' APP you can :
Sirair Inverter Pool Heat Pump 25-140KL
Start / stop your heat pump
Check / set pool temperature
Check heat pump data
Safety lock for parameter setting
Error code notification
Established in 2003 Sirair has 5 branches and a National/Africa dealer network of over 300 contractors and resellers. Our focus is to provide suitable heating and cooling solutions which are not harmful to our planet. We strive to import energy efficient and environmentally friendly products.
Our manufacturing partners are all ISO9001 certified thus ensuring only quality products are sourced under the SIRAIR brand. SIRAIR Airconditioners have a proven track record and can be compared with some of the leading brands in the world. Our manufacturing partners conform to all NRCS (National Regulator for Compulsory Specifications) standards, and a variety of our products meet the new EER(Energy Efficient Standards) standards.
Contractors and dealers that use, or work with our products are qualified and are reputable companies in the HVAC industry. Corporate clients and home owners alike have seen value in our products and services. We commit to go the extra mile to ensure customer satisfaction.